Snap Slides to All-Time Low as Active User Losses Continue
Snap Inc. (SNAP - Get Report) shares are falling post-market after the company reported its second straight quarter of daily active user drop-offs.
Shares of the Santa Monica, Calif.-based social media company are plummeting by over 8% to $6.40 as of 5:45 p.m. ET. That has erased Thursday gains of 6.07%.
The slide comes despite a record revenue figure of $298 million and a beat on top and bottom line estimates on earnings.
Even the operating loss was improved for the notoriously cash burning company, clocking in at a loss of $138 million compared to the $323 million hemorrhage a year ago.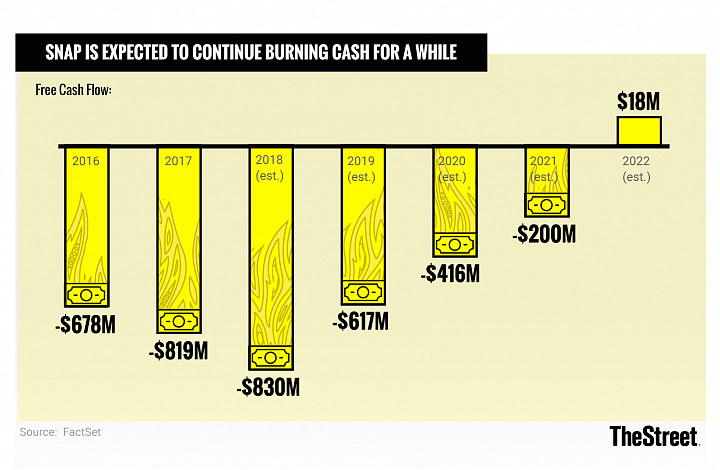 "We're investing in long-term growth opportunities and driving operational efficiencies," CFO Tim Stone said in a statement. "We achieved record revenue and strong bottom-line results this quarter and expect a record fourth quarter, as we continue to invest in innovation for our community and scale our business."
Unfortunately for SNAP investors, which include Saudi Prince Alwaleed Bin Talal, the daily active user metric saw another decrease and is drawing the market's ire.
Active users fell to 186 million in the quarter, continuing a trend that has seen the photo-sharing service lose 5 million users since the first quarter.
CEO Evan Spiegel said the loss came as a result of market decline in the Android operating system and can be remedied.
"This quarter our daily active users grew 5% over the prior year and were down 1% sequentially. The decline was primarily among Android users," he explained early on in the earnings call. "We have been developing a completely new version of our Android application to be lightweight modular and performance."
In more immediate term, the stock slide may add to talent troubles at the company, according to an internal employee survey obtained by Cheddar this week.
The survey reveals that 40%of Snap's roughly 3,000-person workforce indicated that they didn't plan to stay at the company, a double-digit increase from the prior survey.
Snap was taken public on March 17, 2017 at a price of $17. It closed after its first trading day at $24.88, a gain of 44%.
A conference call explaining the results is ongoing. Listen in here.
More