Buy Snap because sentiment can't get more negative, says Citron Research's Andrew Left
Citron Research Founder and Executive Editor Andrew Left is best known for shorting stocks. But as a self-described "contrarian" investor, he isn't afraid to go long on names that he believes the market has unfairly punished.
And now he's making a big bet on Snap. The company is so beaten down -- shares have fallen more than 50% year-to-date -- that Left believes the market can't get much more negative on the stock.
Left is bullish on Snap because of the company's loyal user base, and also because he believes it could be acquired by a larger company like Amazon.
"The news keeps on getting negative, negative. You can't say it's dead. There's 180 million people out there, young ones, who are using Snapchat," he said on Wednesday's "Halftime Report."
The stock is on pace to end the week slightly higher despite a slew of bad news.
On Monday Vice President of Content Nick Bell announced he was leaving the company, and on Wednesday the company revealed it had been subpoenaed by the SEC and Department of Justice over allegedly misleading investors in its IPO.
Left believes the relatively small reaction in the stock on Wednesday -- shares finished 3.4% lower -- is a sign that sentiment is already so negative it may have bottomed.
"Look at the negative news that came out on Snapchat today. It should be trading much lower," he said, adding that corporate defections are just "noise."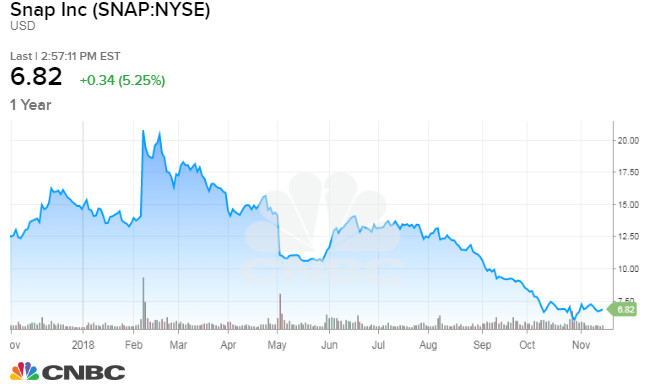 Investors who shy away from Snap often point to declining monthly active user numbers -- a key metric for social media companies -- as reason to stay away from the stock.
But Left believes that Snap actually looks cheap against its competitors. "If you look at what it [Snap] is trading at per daily active user compared to Facebook, it's extremely cheap...The governance issues are real, the declining issues are real, but look at where the stock is trading right now," he said.
Finally, Left believes Snap is an attractive buy because it could be a takeover target. "It's a no-brainer purchase for Amazon," he said, and also pointed out that it's never a question of who would buy Snap, but more a question of when and if Founder and CEO Evan Spiegel would agree to sell the company.
That said, Left did note that this is a speculative play, and that it's not a "retirement stock."
Shares of Snap closed at $6.48 on Wednesday, nearly 70% lower than the stock's 52-week intraday high of $21.22 from February 7.
More