Snap's Disclosures Ahead of IPO Draw Regulator Scrutiny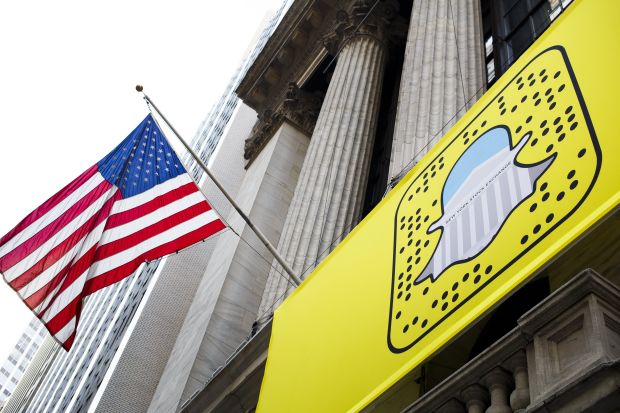 Snap said in a statement it believes the regulators are investigating allegations that it didn't make proper disclosures to investors related to its IPO, issues that had been previously raised in a class-action lawsuit.
"While we do not have complete visibility into these investigations, our understanding is that the DOJ is likely focused on IPO disclosures relating to competition from Instagram," a spokesman for Snap said in a statement.
Representatives for the SEC and Justice Department didn't immediately respond to requests for comment.
Snap shares priced at $17 apiece in 2017 following a hotly anticipated roadshow fueled by investor enthusiasm for its popular messaging app, Snapchat, which had quickly grown popular among young people.
Even before the IPO, the company's user growth had started to stall. Following three quarters of double-digit user growth, Snap in the second half of 2016 posted quarterly user growth of just 7% and 3.3%.
Instagram's Stories, which Facebook Inc. launched in mid-2016, was perceived as a fresh competitor to Snapchat.
The company's efforts to reverse the trend haven't yet taken hold. Since February, Snap has been losing daily users following a redesign of Snapchat that was aimed at broadening its business beyond its core teen and young-adult audience.
As of Sept. 30, it had 186 million daily users, down from about 188 million in the previous quarter, according to securities filings.
Snap's shares closed at $6.71 on Tuesday, up slightly from a record low of $5.77 set last month.
"We continue to believe the class action's claims are meritless and our IPO disclosures were accurate and complete," the spokesman said. Snap intends to continue to cooperate with the subpoenas, he said.
The regulator requests were previously reported by Reuters.
Write to Georgia Wells at Georgia.Wells@wsj.com
More